WSD Series Fast Flow Sand Mill
Min.Order Quantity: 1 Piece
Supply Ability: 100 Pieces per Month
Port: Changzhou
Payment Terms: L/C,D/A,D/P,T/T
Product Detail
Product Tags
Turbo disperser structure
WSD large flow sand mill new type adapts new diversion trench and sand disc to achieve much higher efficient wet grinding technology. High-efficient diversion-trench grinding disc and super-big centrifugal flow turbine can be distributed in grinding chamber  preferably. Centrifugal wheel is designed specially, under high line-speed, adopting centrifugal principle, centrifugal wheel can throw grinding medium and large particles to the outside of filter. This will ensure much more working life of filter and make larger particles material be grinded in chamber repeatedly. This technology solves the problem that filter is plugged up easily. Adopts centrifugal-wheel style filter to increase flow rate and to separate grinding medium safety, if for larger flow separation system, it can work in much higher efficiency.
●Disc of centrifugal grooves  
●Specially designed centrifugal wheel  
●Special designed large area of screen mesh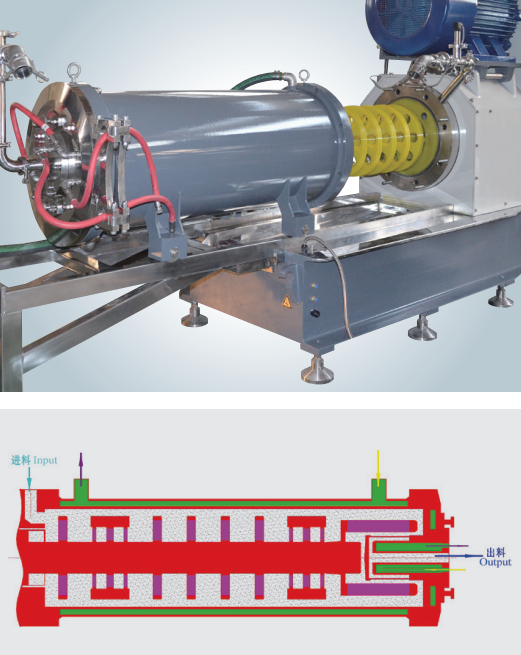 Features
●Eliminate invalid radial force of the cavity
●All material of grinding chamber is replaceable
●All easy-damaged parts can be replaced individually
●Special disc and shaft with thrust
●Special centrifugal type screen
Applications
It is applicable for automobile paint, steelroll paint, corrosion-proof paint, wood paint, screen printing ink, Gravure ink, textile pigment, TiO₂ powder, Pharmacy, Pestide etc.
---
---